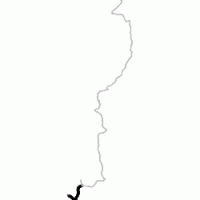 schöder - maria neustift - dora
(Steiermark - Kalkalpen)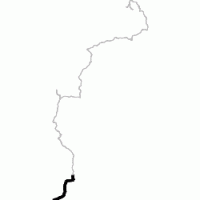 maria neustift - dora (Kalkalpen - Niederösterreich)

---
Soelk - Rally and beyond
09.05.2008 - 13.05.2008
The Sölk Rally was simply amazing! I arrived at the location on Wednesday and spent a night under the stars, warmed by a fire; the next day a constant trickle of bikes and their riders appeared on site, most of them quite tired as some of them did as many as 700 miles, some had to be picked up with broken down engines. High mountains flank the area of Oberwölz, a thunderstorm made us ride over snow covered roads, fields steaming; the final challenge the Sölk-pass itself, still closed for danger of avalanches. 1700 meters altitude takes a toll on the skin, after two days my lips literally fell of. Frosty nights and hot days provided the frame for numerous outdoor activities such as fishing, exploring the back roads and fixing bikes; and Monday felt a bit sad as everybody prepared their departure. Sad because, and this is truly amazing, within just a few days you feel like you've gotten close to people.
Leaving the snow capped mountains behind Nieder- and Oberösterreich offer soothing landscapes, first rolling hills and apple trees in full blossom with rape seed fields oozing an incredibly yellow smell. Crossing the Danube (and isn't it a fine river...) i'm approaching the Yper Valley and take a walk searching for the remnants of forgotten about places that usede to be frequented by druids dating from 450 bc, but they seem much older. Some say these places date back to 2200 bc. Broken roman roads with fine stone work can still be seen at the side of the Klamm (mountain river). Now the grasshoppers play their tune, interrupted by cow bells, mixed with alien bird sounds. I reckon I've arrived here in Dora at the lake and should order a pint.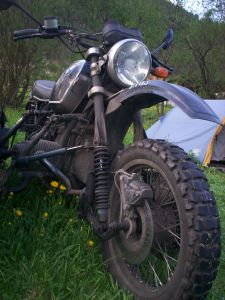 stefan's beemer combo, lovely :)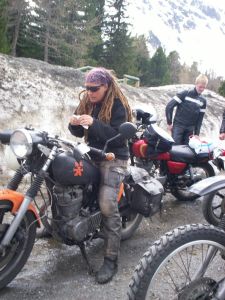 thoeny, got it right with the spanners :)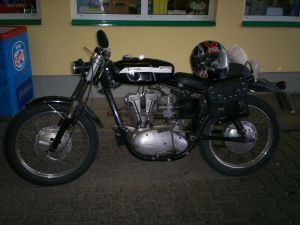 junak, a class of its own: alex's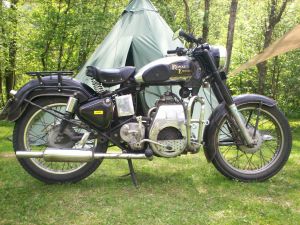 best performance, klaus' diesel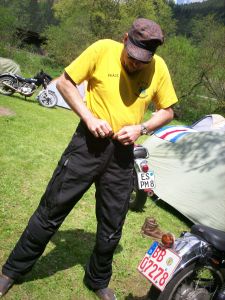 funniest character: präsi (in my opinion :)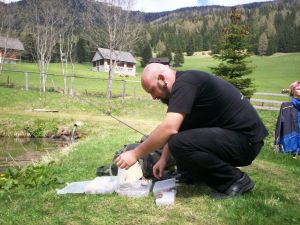 best at catching fish: klaus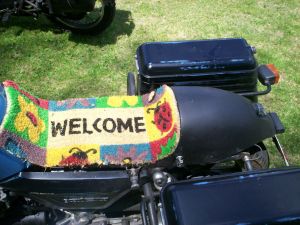 best seat: fleisspelz' guzzi


most relaxed approach to mechanical mayhem: schraubaer
status bike: appreciating less than 20% descents
status max: weathered but mellow
status weather: ++ with a fresh wind from the east.